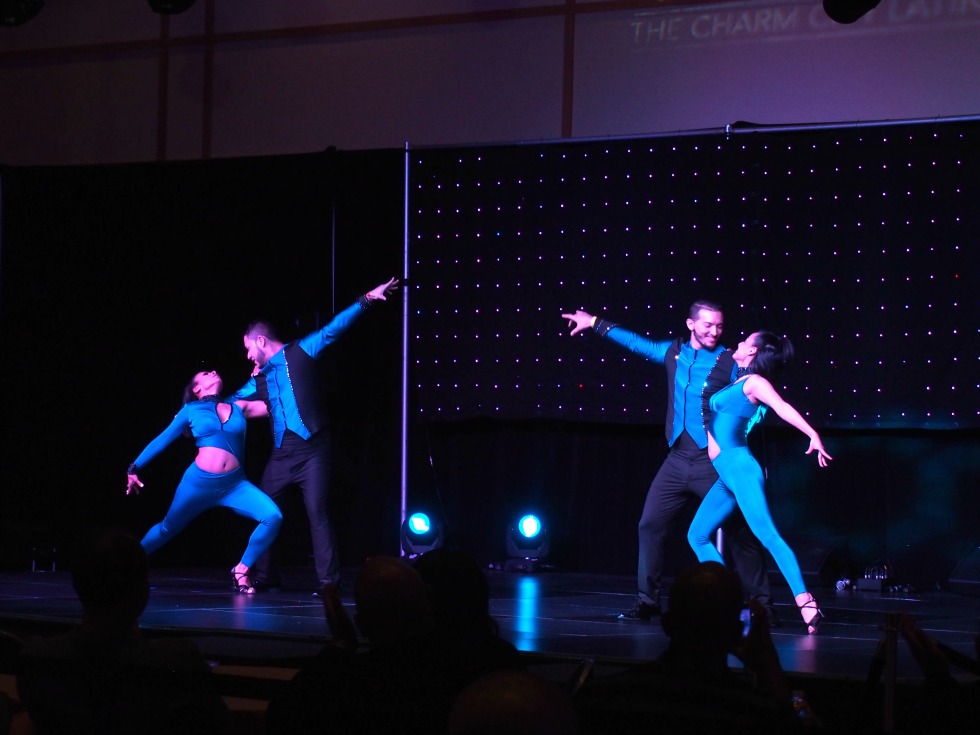 Two weeks ago, I did something great for myself as a salsa dancer: I attended a salsa congress. And I am proud to say that my first congress was in my adopted city of Baltimore.
So what, exactly, is a salsa congress? Basically, a weekend of non-stop dancing. Workshops during the day, performances in the evening, and social dancing until the wee hours of the morning. Congresses are the meccas of the dance scene – places where some of the best dancers in the world come together to teach, learn, share, and dance a lot. More information on the Baltimore congress here.
(Three) days in the life of a congress-goer
So technically, the congress began on Thursday night with a social dance to kick off the weekend. Baltimore being Baltimore, it was kind of a slow start, but by 11:00 p.m. the dance floor was fairly full with local and not-local dancers. I got my brief salsa fix that first night. I danced for a few hours, and I only hit one guy in the face – it was an accident, I swear! Believe it or not, the poor guy who I elbowed in the face that first night continued to dance with me throughout the congress, so I guess there were no hard feelings.
I consider myself an intermediate level salsa dancer. I have been dancing for only about a year and a half, and I dance an average of three nights a week. This was a good point in my evolution as a dancer to saturate myself in the salsa scene. I am finally getting to the point where I feel like I hold my own on the dance floor, feel comfortable with most turn patterns, and have started to incorporate musicality into my dancing. Three days in the congress taught me a tremendous amount and has already impacted my social dancing, having given me more power, fluidity, and confidence in my dancing.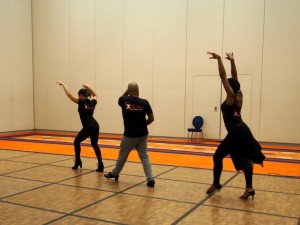 The congress was set up for three days of workshops, occurring on Friday, Saturday, and Sunday, taught by instructors and dance companies from around the country and around the world. It was an amazing opportunity to learn so many different styles of dance. On Friday I took three workshops: a women's styling class, a cha-cha-cha class, and a bachata partner work class.
Every class was a huge struggle for me. Most classes that I took involved choreography, either solo choreography or partner work. But it's never as simple as memorizing some steps. Especially being in the congress and seeing so many professional dancers, it was very apparent to me how even the seemingly simple aspects of Latin dance are still hugely challenging for me. It has taken me over a year to even have the courage to let my arms float above my waist during a salsa class, as opposed to leaving them hanging at my sides like floppy spaghetti noodles. It should be so simple, but it's not. Dance requires awareness and control over every aspect of one's body all the time. Being at the congress and learning from so many amazing dancers made me acutely aware of how unaware I am. I have a long way to go as a dancer; it's a work in progress.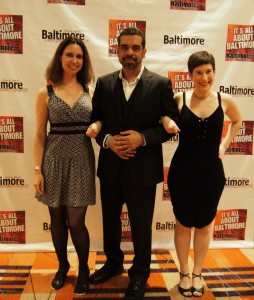 So, after (only!) three hours of classes on Friday afternoon and a whole lot of new information, it was time to have a quick bite to eat, watch performances, and get ready for the Friday night dance party.
I really enjoyed watching the performances. It was humbling for a variety of reasons. Humbling, once again, to be watching dancers who have truly mastered their craft on the stage in front of me in Baltimore. And humbling to see just who was up on that stage, because it was kind of a mix of everyone. There were performances by local dance companies in Baltimore, by dance groups and couples and individuals from around the world, by finalists at the World Latin Dance Cup… It was a lot to take in.
Once the performances were over, the social dance began around 11:00. That night I had many great dances with lots of new people. I think it's always valuable to change up one's dance routine and dance with new people (which can be a bit challenging in your home scene). It was especially nice that, at the congress, not only did I have plenty of new people to dance with, but everyone was really good. When the music finally stopped at 4:00 a.m., we shuffled off of the dance floor, weary and sweaty, with hearts racing from the adrenaline rush that is dancing.
Congress, continued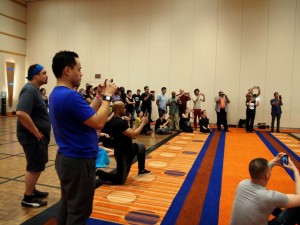 I'm sure that some brave few made it to the Hilton hotel at 10:00 the next morning for the start of the workshops… I was not one of those people. But I am proud to say that I made it on time to class at noon. Saturday was a long day, and continued in the same vein as Friday – workshops during the day (although on Saturday workshops went from 10:00 a.m. to 6:00 p.m.), followed by performances, followed by a dance party.
On Saturday I started the day with hip-hop (because, why not? You don't just learn salsa and bachata at a salsa bachata congress), followed by salsa on 2, sensual bachata, and pachanga footwork. A nap may have occurred at some point during the middle of the day. Obviously, every person has a different capacity for being on their feet and taking dance class after dance class. I found that after two or three classes in a row, I would get pretty saturated with information and new moves were hard to process. I was expecting the congress to be physically taxing (which it was), but it was also fairly mentally strenuous to intake so much new information.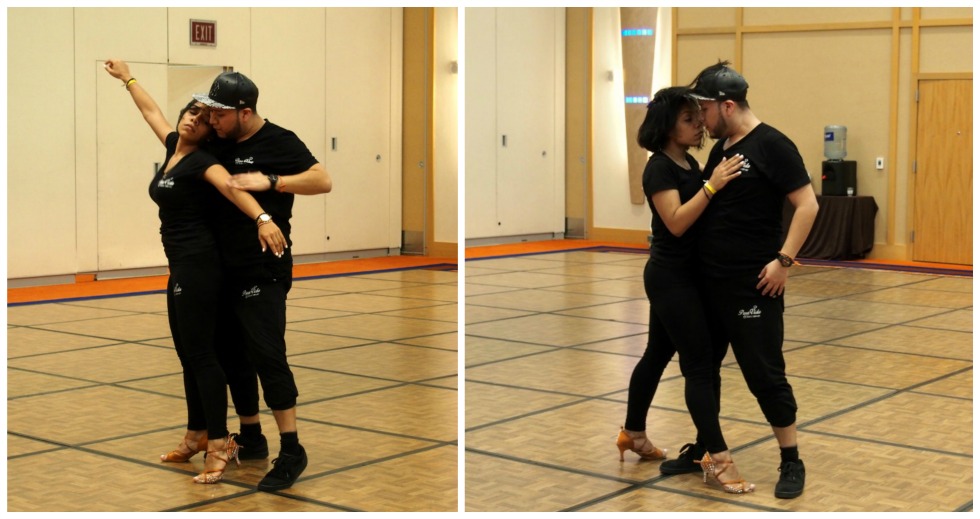 Lather rinse repeat on Saturday night. We watched the second round of performances, and then the salsa room opened up for dancing around 11:30. Tonight there would be a live band, which is always a treat. The first hour or so of dancing was the DJ mix while we waited for the band to come on. At that point in the night, my feet were already killing me. My salsa shoes are lightweight and great for spinning, but the pressure of my body weight on the balls of my feet was pretty intense. I danced (and danced and danced and danced), and the joy of dancing salsa was usually enough to distract me, momentarily, from the pain in my feet. That and perhaps a small side of alcohol.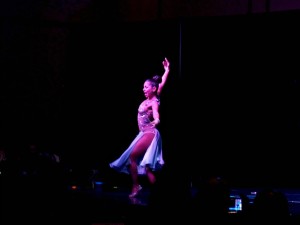 But something ignited in me that weekend. In the past, I had gone out to dance, and would enjoy salsa but in the back of my mind would always be craving the slow sensuality of a bachata. But at the congress, I was all about salsa. It was so exhilarating to be out on that dance floor. I had so many amazing dances both nights. The best dances, for me, are not necessarily super complicated or full of intricate turn patterns, but rather a salsa with somebody who feels the music, who gives me space and independence to feel the music myself, and who has a sense of humor when I completely miss a cue and then make dorky jokes about it in the middle of a dance. Everyone gets something different out of dance, and Latin dancing is an art form. But for me, it's also fundamentally a way to de-stress, be active, connect with people, and feel fun and goofy and sexy all at the same time. It's a deeply precious thing.
Eventually the salsa room closed for the night, so the stragglers went over to the bachata room around the corner. At that point I melodramatically doubted whether or not I could even stand up, but I stood, danced, and smiled all the same. My crowning achievement in the bachata room was reading the cue for an ocho – a tango move that I had learned in one bachatatango workshop a few weeks beforehand. My feet weaved back and forth in elegant figure-eights, and I couldn't help the proud grin that surfaced. A few weeks ago I couldn't have done that, and there I was, doing it.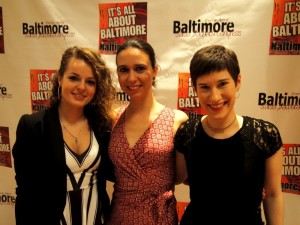 The crowd thinned, but the tell-tale güiras, guitars, and bongos of bachata music still perforated the room. Finally, at 5:00 a.m. we called it a night, stumbling wearily from the bachata room. I kicked off my shoes and wandered barefoot down the hallway. Still, a few warriors with feet of steel remained dancing when we left.
The final countdown
On Sunday, the final day of workshops, even dancing in flats didn't feel like an option. My feet had taken too much of a beating the previous two days. I donned the most comfortable and cushioning pair of shoes I own – my running shoes – and made my way back to the congress for the last round of workshops. I was exhausted from the lack of sleep and from the previous days, but there were a few workshops that I didn't want to miss. I started with salsa on 2. Then I took an immensely challenging Colombian salsa class (salsa caleña), which required my feet to move at speeds that felt super-human at a time when walking was a huge effort. But still, it was great to learn a new style of salsa, in spite of my exhaustion. And finally, the last workshop of the congress was a class all about building power and confidence in salsa and bachata. It was a wonderful class to take, because it wasn't a typical class in which we learned choreography. Instead, we talked about fundamental body movements in dance, and about breaking down insecurities on the dance floor, feeling the music, and enjoying the moment.
And then it was over. I made my way home, took a bath, and soaked my feet. As I reflected that day, and have reflected in the subsequent days and weeks post-congress, I am so glad that I allowed myself to have this experience. It was challenging, exhausting, inspiring, and fun. It broadened my network as a dancer and connected me with so many new people. It strengthened my existing friendships. It gave me so much material to work with as I grow as a dancer.
I want to improve and I want to become more technically skilled. But fundamentally, I want to hold on to the joy that I felt while dancing at the congress. When I dance, I truly let go and live in the moment. No thinking, just reacting, moving, and feeling – all with a smile on my face.