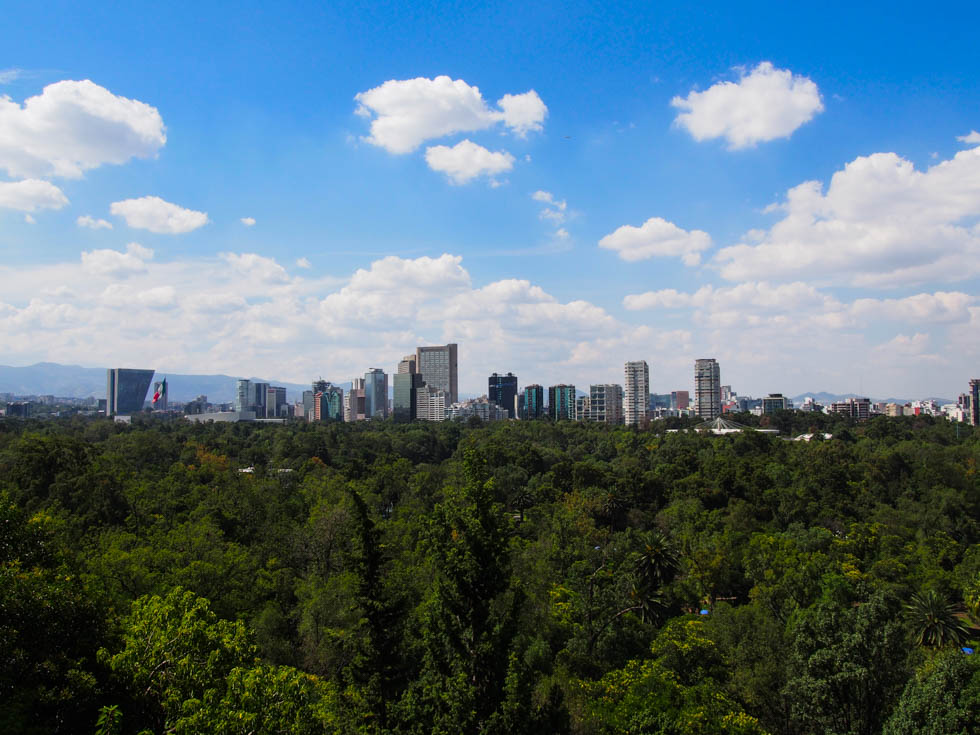 "It's hot." Probably my first tangible thought, which occurred about as soon as I stepped off the plane onto the jetbridge. Maybe the jacket and scarf were a mistake? I thought it was going to be cold here.
I had just left the States after a week of rain, wind, and cold threatening an impending northeast winter. It was only early October, but already the weather was turning foul in Maryland. It had screwed up my packing mindset – there I was, thinking lots of pairs of jeans and maybe a thick sweater or two, only to land in Mexico City and start sweating in the sun.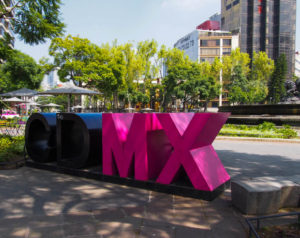 My arrival in Mexico came about after a long buildup. You see, I actually decided around December 2015 that I was going to make this trip a reality. And there's this thing about buildup, at least for me – the anticipation was driving me crazy. Ever since I quit my job back in late July and gave myself some time to figure things out, I had been equal parts excited and mildly freaking out about the prospect of being out of the country, solo traveling, for approximately two and a half months. I had never traveled by myself for such a long time. And I had a solid two months before leaving to get really nervous about it.
So after thinking, planning, ignoring, fantasizing, journaling, discussing, anticipating, freaking out, saying hard goodbyes, packing, repacking, arriving at the airport, and finally getting on the damn plane to put all of these "what ifs" to rest, there I was on my way to Mexico City. And when I stepped off the plane, still wearing what almost constitutes a winter coat, I did feel mildly foolish. Mexico City was hot. A recurring thought, as I lugged my too-heavy backpack through customs, out of the airport, and along a sunny path leading to the metro station.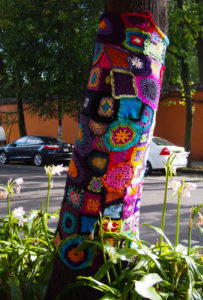 Mexico City, I would soon find out, is also really freaking awesome. It's huge, fast-paced, and very uniquely challenging to navigate (turns out lots of avenidas that cut diagonally across the grid can be a little disorienting). It is simultaneously an international metropolis while also feeling distinctly Mexican, with food stands on what feels like every corner selling everything from batidos to tacos to tortas to chilaquiles. It is a city with many tiny details that give it lots of personality. There is street art everywhere, you can find trees adorned with knitted sweaters, and, I was delighted to find out during a walk my first evening, there is at least one swing in the city. Not a swing in a park, but suspended between two trees on a main city street.
Within about 48 hours of my time in Mexico City, I started to get into the groove of traveling. It's always an adjustment, to leave one's country and get accustomed to different food, currency, daily schedules, and culture. But luckily, Mexico City is a place that I personally found not too challenging to access, with the help of some of my go-to travel resources: couchsurfing and salsa dancing. Although I was staying in a hostel (Hostel Home in Roma Norte, which ended up being a great choice in a super central location), I spent almost every day in Mexico City with couchsurfers. There is a really active community of couchsurfers in Mexico City, so I had the good luck of being able to go to couchsurfing meetups every day if I so chose. My first night in Mexico City, I made my way down to Colonia Navarte to play boardgames, and ended up meeting many locals. We played Jenga and I got lots of pointers about things to do in Mexico City, places to visit around the country, how to safely navigate Mexico City, and more. Plus, I never once made the Jenga tower fall down, so all in all I would say it was a good first day in Mexico.
And, I stopped feeling so foolish about having brought the jacket when I realized that, at least in Central Mexico in October, it does get quite cold at night. I hugged my jacket close to me as I walked the few blocks from the Metrobus stop to my hostel, looking forward to a good night's sleep after a long day of travel.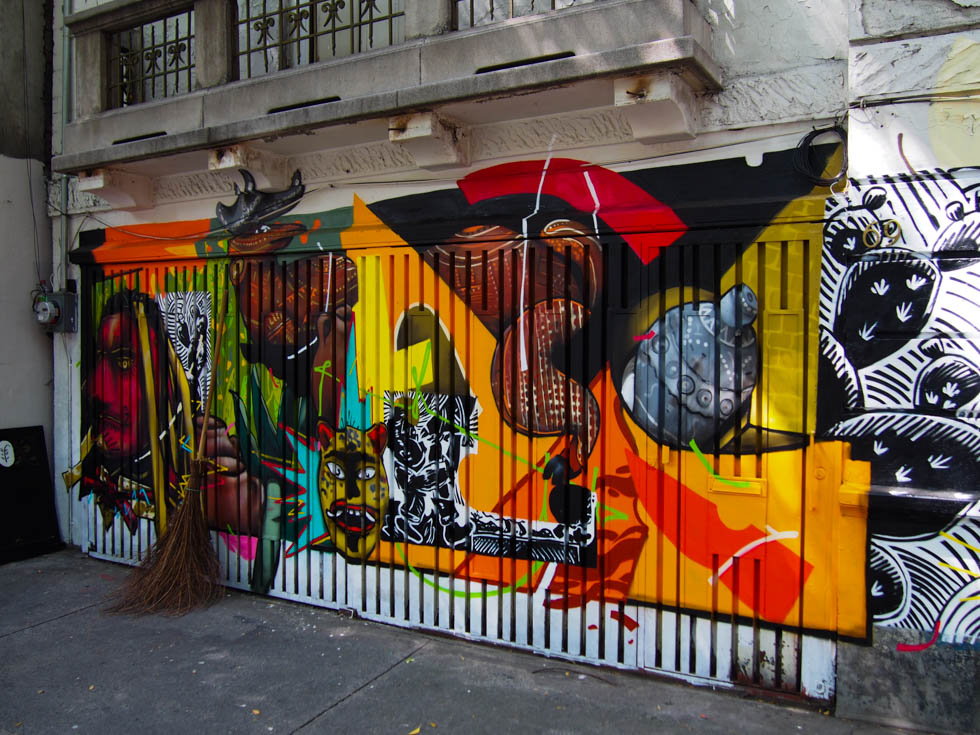 My near-week in Mexico City can best be described as full, both in terms of things to do and how I felt about the experience. I got to dance a lot, which is always a plus, and the great thing about traveling as a dancer is that it's a fantastic way to meet people. You already share a hobby, and you have a go-to ice-breaker ("Would you like to dance?"). I danced at three different spots around Mexico City, including a day at a salsa congress. Lots of dancers in Mexico City, I found, dance Cuban-style salsa, likely a result of the significant population of Cubans living in Mexico, and in particular Mexico City. Salsa dancers looking to dance around Mexico City should brush up on their Rueda de Casino steps! Otherwise, many people dance "en línea", most commonly On 1.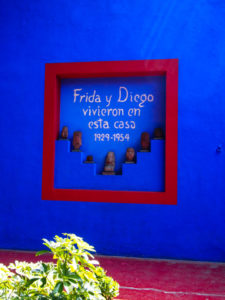 Even after six days in Mexico City, I still hadn't managed to see even half of what I wanted to see. I did, however, get out to some great sites around the city. I spent one afternoon at the Castillo de Chapultepec in Chapultepec Park, accompanied by a new friend, learning about Mexican history while taking in the views of the sprawling city skyline. I spent a lot of time wandering around the neighborhoods of La Roma and La Condesa, visiting the parque México and strolling along the shady, tree-lined streets. I made my way down to the quaint neighborhood of Coyoacán various times. It was in Coyoacán that I visited the museum/home of the great Frida Kahlo, the iconic Mexican painter who also happened to be a badass feminist, communist, and activist. Both in and beyond Mexico City, the presence of Frida is strong, and her face is everywhere from clothing to notebooks to the 500 peso bill. I love that such a strong, vulnerable, and honest woman is such a prominent symbol for the country.
Of course, many of my favorite memories from Mexico City are simply spending time with new friends, walking around, dancing, trying hot chocolate from El Jarocho, stumbling upon a rap battle inspired by Cervantes, going out for tacos at midnight (dinner time, for some, in Mexico), learning all sorts of good and bad words in Mexican Spanish, and getting to know new people and learning their stories. The beauty of travel, at the end of the day, is the people you meet and the connections you form. I'm very grateful for the people who have opened themselves up to me and gone out of their way to show me a good time in Mexico City.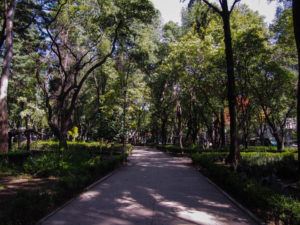 I'm very touched by the generosity of everyone who I have met so far. During my six days in Mexico City, I met many people who, upon hearing about my travel plans, either offered to show me around their home city, or who offered to let me stay in their homes. Sometimes within 15 minutes of conversing with me! So far I've been personally invited to Guadalajara, Michoacán, and Puerto Vallarta, among other places. I'm honestly not accustomed to such openness, and it's incredibly humbling. And it's something that I want to pay forward. I believe that humans need to be kind, open, and giving with each other. I see these qualities in many of the people who I have met so far during my trip, and in turn am reflecting about how I can be a kinder, more open, and more giving person. Especially for those of us who come from privileged backgrounds, such as myself, I think that we should self-reflect in this way. As humans, it really is the least we can do.
So, all in all, I loved Mexico City – so much that I'm going back! There is simply too much to do, between spending time with friends to seeing sites to dancing lots of salsa, that I'm thinking I need another week there. Luckily, I am blessed with time on this backpacking trip and can make another week in Mexico City a reality. But in the meantime, I have many other places in the center of Mexico to visit. This is a big country and there is so much to see – two and a half months really isn't enough. However, it's a great amount of time to see and do a lot; this is an amazing opportunity and I will not forget that!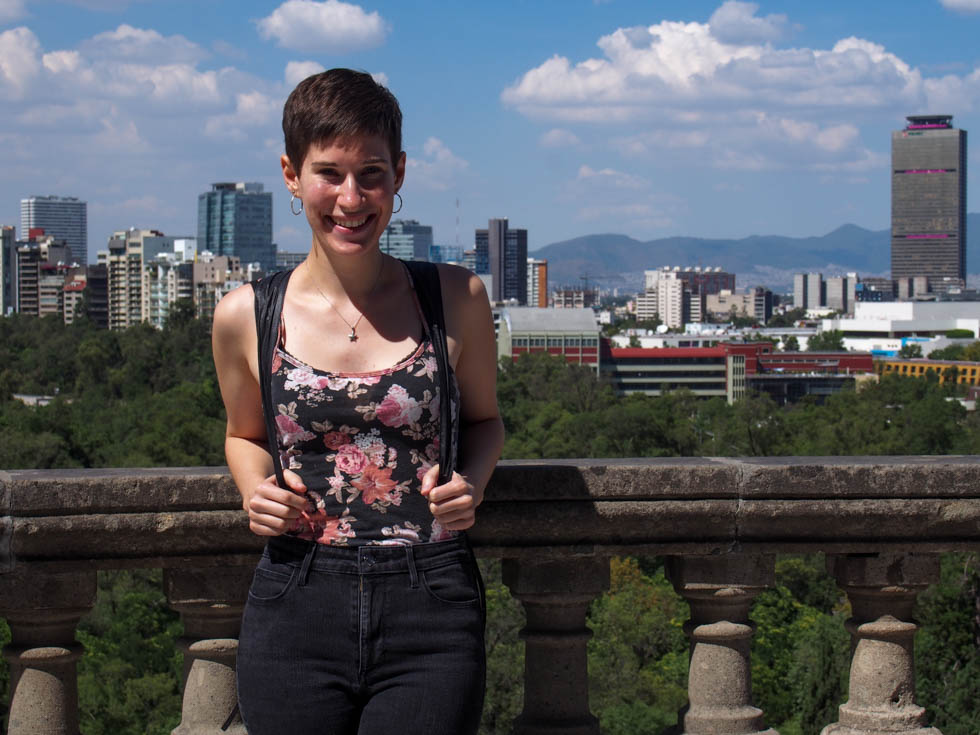 Have you been to Mexico City? What were your first impressions? What was your favorite site or activity around the city? Let me know in the comments below!