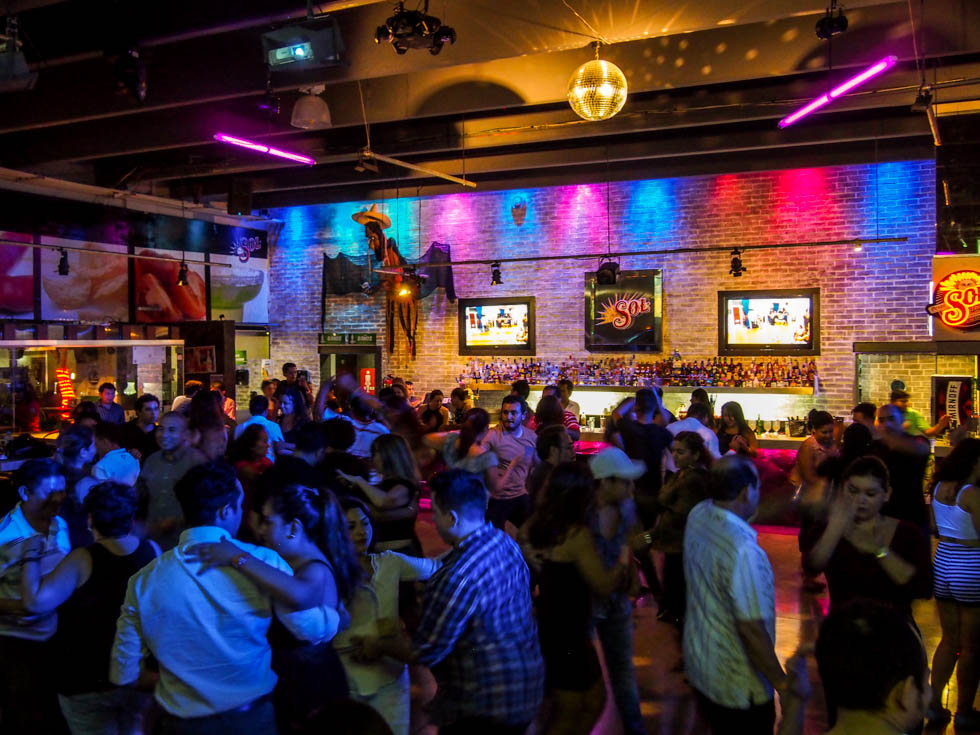 If you haven't figured it out by now, this blogger is also an avid salsa dancer. So much so that dance has critically shaped my travels. It often dictates places that I will visit, and for how long. Typically the first thing that I google upon arriving at a new destination is "where to dance salsa in XYZ city." Dance is also one of my primary forms of meeting people while I travel, and it's due to dance that I have formed many relationships both at home and while out in the world.
My trip to Mexico was no exception. I made an effort to dance in every city that I visited in Mexico. And lucky for this globetrotting salsa dancer, I found many of the cities that I visited in Mexico to have thriving dance scenes. And to aide other traveling dancers hoping to visit and dance through Mexico, here is my (non-comprehensive) compendium of dance spaces in various cities throughout Mexico. It reflects only the cities that I visited and the venues that I managed to try out, and my thoughts on the places in which I danced. Keep in mind, though, that dance spaces have the tendency to change frequently, so double check your sources (and ask locals as well) upon arriving in these amazing cities!
General information about dancing around Mexico
Most people in Mexico, I found, dance one of two styles of salsa: either "en línea" or Cuban salsa. En línea refers to linear salsa, i.e. salsa On 1 or salsa On 2. I found that most people who dance en línea dance On 1, though there are On 2 dancers in Mexico as well! In a typical social or club, I found mostly On 1 or Cuban salsa. Many establishments that offer salsa classes teach Cuban-style salsa, and a significant percentage of social dancers who I encountered danced Cuban salsa. To get the most out of salsa dancing in Mexico, it would be helpful to have a basic knowledge of both linear and Cuban-style salsa.
I found that of all of the Latin rhythms danced socially around Mexico, salsa was the most pervasive. Many venues had live salsa bands, and in general the bulk of the music during any given night was salsa. However, many dance spaces also play small amounts of bachata, typically urban bachata. Most bachata dancers who I encountered throughout Mexico dance sensual bachata. In many dance spaces throughout Mexico, there is also a significant amount of cumbia. I also heard small amounts of cha-cha-cha, and very, very rarely merengue.
Most cities that I visited seemed to have some sort of dance community – in general, there are salsa dancers all around the world, and Mexico is no exception. In smaller cities, dance nights tend to be Fridays and Saturdays, though depending on the city there may be social dancing during the week. Larger cities oftentimes have dancing every day, and sometimes multiple options per night. My favorite city for salsa dancing in Mexico was Guadalajara. I was incredibly impressed with the dance venues around Guadalajara. I also found the dance community in Guadalajara to be very welcoming, and the overall level of the dancers to be fairly advanced.
And now, the city-by-city guide. I can only speak about the venues at which I danced, and to the word-of-mouth information that I received from locals in various cities. I hope you find it useful! Happy dancing!
Mexico City
Pata Negra: A classic! Pata Negra has salsa on Wednesdays and Saturdays, although I never made it out to the Saturday social. I did, however, go to the Wednesday social twice and I really enjoyed it. No cover charge and they offer free salsa classes. The classes are two hours long and are divided by level (beginner, intermediate, advanced). After the class there is social dancing, an hour of DJ set and an hour of live salsa. After midnight the DJ comes back on and phases out the salsa music to general dance music, and it becomes more like a club. However, before midnight it's a great salsa social. Lots of dancers of all levels and a very friendly, welcoming community. The dance floor is wood and it gets very, very full – not the easiest for social dancing, but it's still worth the visit.
Bachata Mexico: Bachata Mexico is a dance studio with a Thursday night social. They offer Cuban salsa and sensual bachata classes, and on Thursday nights after the workshops there is a (short) social salsa/bachata social. The social ends around midnight, leaving you with about two hours of social dancing, and there is a price per class and a cover charge for the social (not separate from the price of the workshops). This was one of the few venues in which I was able to dance bachata in Mexico City.
Mama Rumba: Mama Rumba is a venue for Cuban salsa. It is open multiple days per week and there is a cover charge to get in. I was at Mama Rumba the night of a special event, so I'm not sure how it is for social dancing on a typical night. Mama Rumba is big but it doesn't have a real "dance floor" – more so it has wide aisles in which to dance, so the dance space can easily get very crowded. A good spot for listing to live Cuban music, but a challenging dance space.
Nuevo Foro Hilvana: Great venue with a Friday night social. There is a small window during which one can enter for free, but after 8:30 p.m. there is a cover charge. Foro Hilvana offers a salsa class before the social. The social is a really good time, with a live band and a plethora of dancers of all levels. The dance floor is quite large and it's fairly slick. Recommended!
Fusion Salsa Fest: So, not exactly a social, but rather a congress! My trip to Mexico City (conveniently) coincided with FSF, Mexico City's salsa congress. I bought a Saturday pass and attended workshops during the day, and then returned for performances and social dancing at night. I enjoyed the workshops, but they were very full (most workshops contained at least 100 students, to give you an idea). The Saturday night party began around 2:00 a.m. after a few hours of performances, and was still in full swing when I left at 5:00 a.m. The Saturday night party featured a live salsa band, and there were two dance rooms: a salsa room and a bachata/kizomba room. Both rooms were quite packed throughout the night. Like any congress, the level of the dancers is very high. I had a lot of fun at FSF; if you happen to be in Mexico City in October it is worth considering attending.
San Miguel de Allende
Bar La Chula: La Chula was alright! I thought that I would not be able to dance in San Miguel, because it's a small city and social dancing there is more of a Thursday through Saturday event. However, on Wednesday nights, La Chula has a live salsa band! It's a small venue with a small dance floor, but it's definitely worth visiting at least for the music and the view – the bar and the dance floor are located on a covered terrace, and there is a beautiful view of picturesque San Miguel de Allende by night. I managed to get a few dances in, but it was not a salsa social with a multitude of social dancers. Better to go with friends, have a drink, listen to the band, and dance cuando te de la gana.
Guanajuato
La dama de las camelias: Ahhh, La dama de las camelias… I actually loved dancing here, but this type of venue can be really hit or miss (think bar, with a small dance floor, open multiple days per week, that happens to play Latin music. Can easily be dominated by crowds looking to party, not to social dance.) Regardless, I had a great time dancing at La dama de las camelias because the salsa community in Guanajuato also congregated there, and I found people in the local scene to be very welcoming. La dama is open a few nights per week – Thursday, Friday, and Saturday, for sure. By midnight the floor gets really full and it's challenging to dance. When I went on a Thursday night it was a bit easier to navigate the crowded dance floor, but on Friday night with the weekend partiers it was more challenging. Small cover charge to enter, and entirely DJ set. The music was almost exclusively salsa, with the occasional small set of bachata and cumbia.
Side note: When I was in Guanajuato, the salseros were all excited about a new venue that was about to open, called El Guaguancó. I didn't get the chance to dance there before leaving Guanajuato, but I poked my head into the venue and the dance floor looked beautiful. This may be the new spot for the dance scene to congregate. The next time I'm in GTO this is where you'll find me!
Guadalajara
Chapultepec Salsero: Chapultepec Salsero is really special. It is Guadalajara's Monday night social, and it's completely free. This social takes place outside, and actually occurs in the (wide) pedestrian walkway in the median in Avenida Chapultepec. It starts early and ends early, and begins with a free class at 6:30 p.m., followed by open dancing. Very spacious dance floor because the median spans an entire block, and the community of dancers is very welcoming. Chapultepec Salsero occurs rain or shine! Loved this social, I definitely recommend it.
Hotel Riu: Another great Guadalajara social! There is salsa in the lobby of the Hotel Riu every Tuesday and Friday. Free salsa class from 9:00 to 10:00, followed by open dancing. No cover, and there is a live salsa band on both nights. The dance floor is a good size but it definitely fills up. Very recommended, both nights.
Gran Salon Corona: This was one of my favorite socials in Mexico. I loved dancing at Salon Corona – it has a huge, slick dance floor, two live salsa bands, lots of bachata in between salsa sets, and no cover before 11:00 p.m. I went on a Thursday night, though there is also salsa on Fridays. There is a salsa class offered before the social. This was one of the few socials that I attended in Mexico that played extensive amounts of bachata, with bachata sets occurring in between the sets performed by the live bands. I loved dancing here, and definitely recommend it.
Morelia
La Porfiriana: La Porfiriana gets kind of a bad rap from the salseros in Morelia, and I'm not really sure why. I went on a Wednesday night and had a nice time. It is located in the historic center of Morelia and is open multiple nights per week. There is a salsa class, followed by open dancing with a live band. I found the class to be really strange – the teacher gave a ballroom salsa class, which I personally did not enjoy. La Porfiriana has a table minimum (80 pesos per person, I believe). The dance floor is slick and fairly spacious, and the band played a mix of salsa and cumbia, interspersed with DJ sets of salsa, cumbia, and a small amount of bachata. I enjoyed myself at La Porfiriana and managed to get some good dances in. I think it's worth trying out, especially for people staying in the historic center.
Konkolo Snack Bar: Konkolo is a cool venue located a bit outside of the historic center of Morelia. The venue itself is quite large, though the dance floor fills up quickly. If you arrive early enough there is no cover charge. Konkolo is open multiple nights per week and features a live band, interspersed with DJ sets playing mostly salsa and cumbia, with small amounts of bachata. I heard from some salseros in Morelia that Wednesday night is the best night to go; I went on a Thursday and had a good night overall.
Puebla
Mambito's Salsa Social: Mambito's was my favorite social out of everywhere that I danced in Mexico! I seriously recommend it. The social takes place every other Sunday night, so plan your trip to Puebla accordingly! There was a small cover, and this social started early and ended early (think 7 p.m. to midnight). No live band, solely DJ. The night that I was there, the music generally followed the format of three to four salsas, followed by one bachata. Lather, rinse, repeat. Spacious, hardwood dance floor (this social was also one of the few in which it didn't feel like the dance floor was a battleground due to the congestion of dancers). I found the level of the dancers to be very high, and the community to be incredibly welcoming. Loved it, highly recommended.
Oaxaca
La Tentación: I went to La Tentacion on a Wednesday night, and it was empty. Sure, they were playing Latin music – DJ set with salsa, bachata, and cumbia – but La Tentación may be a venue in which you need to bring a partner to be able to dance. I didn't go back so I'm not sure if this changes on, say, a Thursday, Friday, or Saturday night, but I didn't have much luck when I was there. La Tentación has a very small dance floor, and when I went there was no cover. It's not a bad venue in which to have a drink and listen to Latin music, but for social dancing I don't recommend it.
Restaurante Candela: I was really disappointed with Candela, which is unfortunate because it's supposed to be "the" salsa venue in Oaxaca. Candela is open multiple nights per week and there is a small cover charge. I went on a Thursday night and found that, in spite of there being many people there, it was very difficult to social dance. The DJ played small amounts of salsa and bachata, interspersed with large sets of cumbia and reggaetón. While there were high-level salsa dancers there, I did not find the local community to be particularly welcoming. As a whole, I was not impressed with the salsa scene in Oaxaca.
Side note: Oaxaca has a salsa congress! It seems like this is one of the larger congresses throughout Mexico, so perhaps if you're in Oaxaca at the right time, this would be a better way to get your social dancing fix.
Puerto Escondido
Playa Kabbalah: Kabbalah is Puerto Escondido's Saturday night salsa venue. No cover and a live band playing salsa, cumbia, and even a little bit of bachata. I got to Kabbalah a little past 11:00 p.m. The place was full… but there were very few social dancers, more so people there to party. I was not really able to salsa dance there, which was a bit disappointing. However, Kabbalah is a really cool venue because it is right on Zicatela Beach – meaning that if there's no one to dance with you can just relax on the beach and watch the waves break over the shore. Once the band ends the DJ takes over and plays reggaetón and other dance music, and it essentially becomes a club.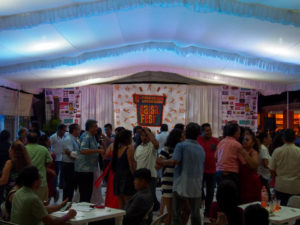 Congo Bar: Congo is the dance spot for Wednesdays and Fridays in Puerto Escondido. I went on a Wednesday night, and there was no cover and a live band. I went to Congo on the night of a special event, so the band played outside and the dancing occurred in the street. On a regular night I'm not sure how it is, but the night that I was there was a good time, and I got in some good dances with some of Puerto Escondido's salsa community. The band and the DJ played a mix of salsa and cumbia, and after about two hours the dance floor was pretty full of partiers. For salsa dancing, I believe it's better to arrive earlier rather than later.
Puerto Escondido Salsa Fest: Puerto Escondido has a small salsa festival, the Puerto Escondido Salsa Fest, which is like a very small salsa congress. The festival takes place during Friday and Saturday. Friday is solely a night party, with shows and social dancing. Saturday consists of three workshops during the day (salsa, bachata, and quebradita), and a party at night with more shows and social dancing. The Friday night party featured a live band as well as DJ sets, and Saturday was entirely DJ. The music was mostly salsa, with some cumbia, bachata, and small amounts of quebradita. I personally found it slightly difficult to social dance at this festival, and felt like some of the dancers there were a little bit cliquey. However, I did meet many welcoming social dancers there as well. Additionally, I believe that the festival organizer is making a strong effort to build the dance community in Puerto Escondido, and as such I felt that attending this event was worthwhile.
Playa del Carmen
La Salsanera: La Salsanera was the only spot that I found around Playa del Carmen to salsa dance. It's quite nice, and is open multiple days per week. There are free salsa classes offered. If you arrive early enough, there is no cover (I believe the cover charge starts after 10:30 p.m.). La Salsanera has a nice wood floor, and tends to feature live salsa bands.
Mérida
Mambo Cafe: Thumbs down. I was not a fan of Mambo Cafe, and would not recommend it for social dancing. It is a club, with reggaetón, strobe lights, y todo. Great if you are looking to perrear, but very disappointing if that's not what you're looking for. I tried Mambo Cafe because its Facebook page advertised a bachata night… after two hours, I did not hear a single bachata. Perks of Mambo Cafe, if you're looking to party, are the (sometimes) free entrance for women and the open bar. Plus, they do have live music – think salsa/cumbia/reggaetón fusion.
Las de Guanatos: Pachanga social at Guanatos! I thought this was a great social. It occurs every other Sunday at a restaurant in the north of Mérida. There is a small cover charge that includes an hour-long dance class. This social starts early and ends early (7 p.m. to 1 a.m.) and it is well worth the trip. The dance floor is slick and spacious, and the social attracts a welcoming community of dancers. The format is 2, 3, or 4 salsas to 1 or 2 bachatas. Definitely recommended.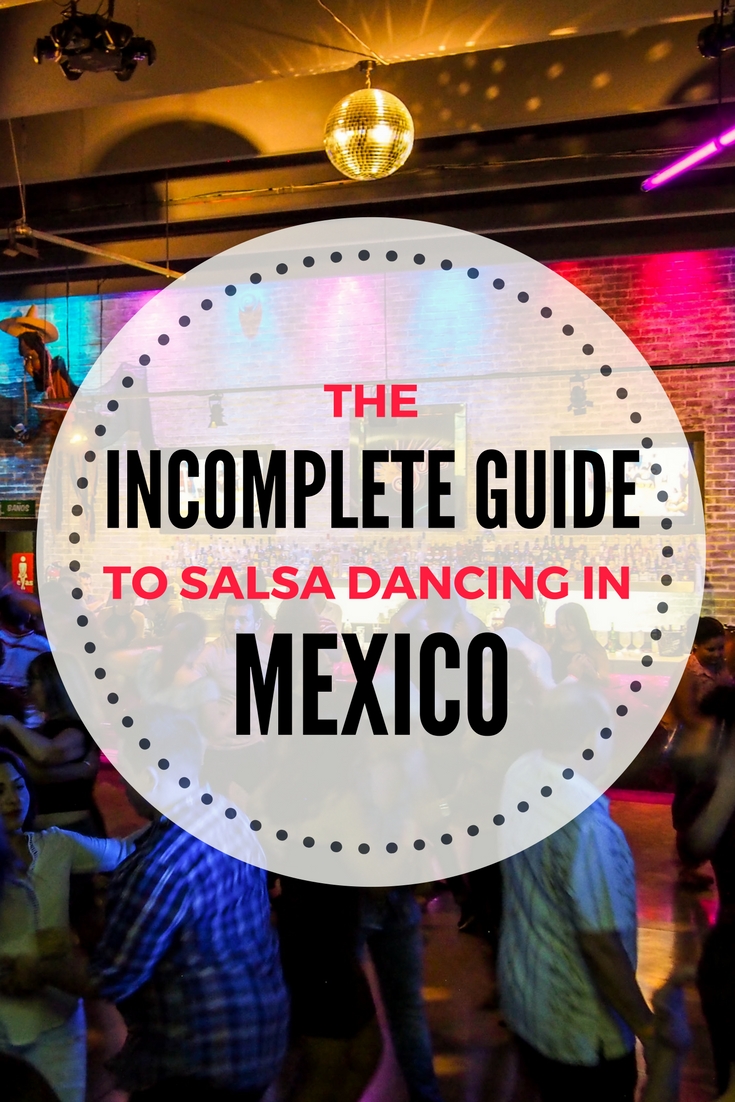 There you have it! Hopefully this guide with be the first of many, and hopefully in future trips to Mexico I will be able to expand it to reflect more cities and venues that I visit. Have you gotten to salsa dance in Mexico? Any recommendations for me? How about in other cities and countries around the world – any favorite spots for dancing? Let me know in the comments below!