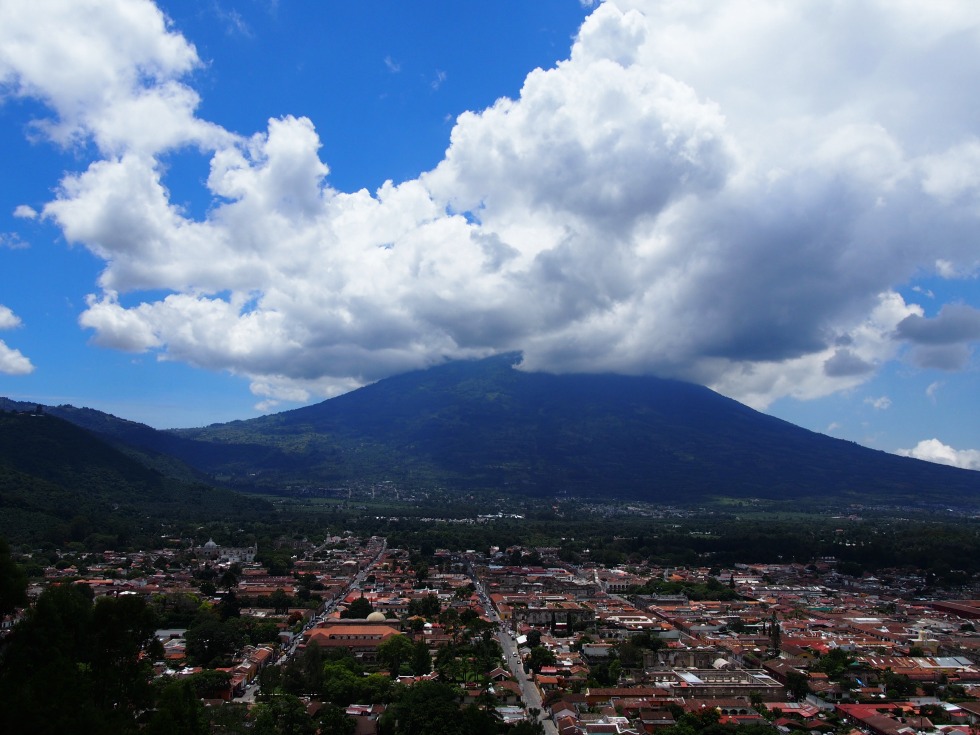 Antigua became the epicenter of my trip to Guatemala, strangely enough. I didn't love Antigua, but it was where I spent the beginning, middle, and end of my trip. I do, however, think that it's worth a visit. It's small and charming and a good place to gain one's bearings in Guatemala.
The second time that I passed through Antigua, I had just left Quetzaltenango (Xela) during the hullabaloo of the Guatemalan Independence Day celebrations. I was ready for a change of pace. I made my way back to Antigua after spending a long day bouncing around on various chicken buses. I would spend just one night in Antigua before leaving for Cobán the next morning. I got off the bus in Antigua and headed to meet up with my couchsurfing host. This would be a layover, of sorts. For the second time, I ambled across the cobbled streets of the city with my heavy backpack in tow.
A night on the town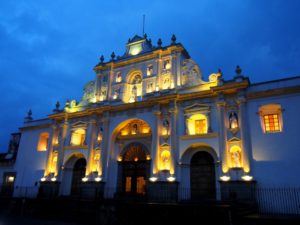 After arriving, relaxing, and catching up with my couchsurfing host, we formulated a plan for the night. We would wander around the festivities for a while and then go to a bar. We made our way to the parque central, still full of people and vendors for the Independence Day feriados. After my host got himself some tasty street food (his stomach could handle it, mine, despite my best efforts, could not), we walked around the corner to the Lucky Rabbit, the bar where some of his friends were hanging out.
It was not particularly crowded or chaotic, and the bar had all sorts of games to play. I bought mojitos for myself and my host and then we went and joined a group of people who were hanging out by the beer pong tables. This, clearly, is globalization at its finest.
My host's friends were nice people. I met a young Guatemalan couple and their friend, a woman from Argentina. The five of us did the typical bar thing: talked, drank, and shouted to each other over the loud music.
At one point I got caught up in a one-on-one conversation with the Argentinian woman, who introduced herself as Ro. Ro had been traveling for more than a year. She had been in Guatemala for a while and was going to head back to Argentina in the coming weeks. She had been away from home for a long time, she explained to me, and wanted to spend time with her family.
We talked a lot about traveling, and travel styles. Also being a woman who travels by herself, she and I were able to relate about the benefits and challenges of solo travel and about our desires for cultural integration when we travel. At one point she complimented my Spanish and I beamed, flattered. Sometimes I feel self-conscious about my American accent. Her accent, on the other hand, was beautiful, characteristically porteña and peppered with 'sh' sounds and the vos form.
And I don't know exactly what did it. Maybe it was the insightful conversation about travel and languages and cultures. Maybe it was when the conversation would pause and she would look me in the eye and smile. Maybe it was the casual contact, a hand on my shoulder or our arms brushing together. But there was a moment, when I looked at her and it hit me: Ro is really attractive. It's a fun feeling, to have a crush for the night. It's even more fun if you're a queer girl who is single and on vacation. I smiled back at Ro.
Questions, qualms, and queers
The five of us played games around the bar. I was a little bit buzzed from my mojito, and was enjoying the friendly competition and laid-back atmosphere at the bar. Eventually, everyone went outside to sit on the deck. I made a pitstop at the bathroom and then went in search of my group.
Everyone was crowded around a little table up on the balcony. Some were smoking cigarettes, the smoke spiraling up into the cool night air. There were no chairs left, and I glanced around for a free one at a different table. Before I could grab a chair, Ro caught my eye and said, "There's room over here." She scooted to the edge of her chair so that I could sit down next to her. I did. She slid her beer across the table to me and I took a sip. She smiled at me, her eyes crinkling in the corners. I smiled back, and then we held that gaze, the seconds ticking by. Finally, I blushed and looked away. My heart was pounding.
Her left side was pressed against my right side. I could smell her and feel her warmth against me. The conversation continued around us, occasionally involving us, but for the life of me I can't remember what we were talking about. I do remember Ro's lingering glances at me. Her smiles. Her fingers occasionally brushing my leg, my back.
At one point I noticed that she had a tattoo on her back, and I asked if I could see it. She moved her long hair out of the way and I trailed my fingers down her back, grazing over the soft, tattooed flesh. She leaned a little bit closer to me.
We all continued laughing and chatting, and the whole time I was hyper aware of the woman at my side. And then, we all managed to disperse. To buy another beer. To go use the bathroom. I was yawning from the long day and the alcohol. I went downstairs and found my couchsurfing host, and we agreed that it was about time to go home. I just wanted to say goodbye, I told him. I first found the young couple, and then I went back to the balcony in search of Ro.
She was outside, smoking a cigarette and texting. I went up to her and told her that we were going to be heading out. We locked eyes, expressed how great it was to have met each other. And then, with my heart racing a mile a minute, I turned to the mesmerizing woman in front of me and asked, "Can I kiss you?"
She let out a startled laugh.
"On the cheek?"
There was a moment of silence. "Um…" was the only response that I managed to formulate.
And then I saw the gears start to turn in her head. She looked at me, and her eyes went wide. And then she said firmly, "No." 
My face got really hot, really quick. I looked up at her and muttered, "I'm sorry." I needed space. Air. Complete sobriety.
To that, she gave me a sweet, pitying smile and exclaimed in a sweet, pitying tone, "¡Mi vida! Sos hermosa. Ay, mi vida…" And she engulfed me in a hug. Basically, the equivalent of, "Oh, sweetie!" I gave her an awkward pat on the back, wanting the hug, and the conversation, to end. I was so embarrassed. How had I managed to misinterpret her the entire night?
She let me go, and I told her goodnight. I hoped that I didn't make her uncomfortable, but I probably did regardless. She bade me goodnight. I walked off of the balcony, my mind racing and my legs practically shaking.
That part where I learn stuff
My mind continued to race during the walk home, mulling over the entire night and all of the minutia of our interactions. Had I been completely blind, I asked myself, seeing signs where there were no signs? But no, I thought furiously, how could I have been blind when she kept putting her hand on my leg? That's a pretty big sign to me.
But maybe she was just a flirty person. Maybe she felt comfortable flirting with me and it didn't mean anything. Maybe she was also part of the LQBTQIA+ alphabet soup but wasn't comfortable acting on anything. Maybe maybe maybe.
There was, however, only one definite in the scenario. That being, no matter how all-consumed I felt by the desire to kiss this woman, she did not want to kiss me. And yeah, rejection sucks and feels crappy. But I was also incredibly thankful that I didn't just go for it. What a disaster that would have been, to force myself on a person who clearly was not on the same page as me.
Which leads me to my big take-aways from this night.
One. The only surefire way to really know what a person wants is to ask them. With words. Non-verbal communications are fun and exciting, but they are not enough. I was so sure that Ro was interested in me, and I thought that I was "reading the signs" correctly. But when the question was popped, she flat out rejected me. By asking, this gave Ro the chance to establish boundaries that I had to respect. I don't point this out to pat myself on the back, but rather as a reminder that no person is exempt from asking for consent.
Furthermore, consent applies to the whole body. In retrospect, I also should have asked for permission to touch Ro's back. In retrospect, she also should have asked before touching me.
We have to unlearn the idea that "going for it" is the proper way to pursue a romantic or sexual interaction with someone. All of the non-verbal clues in the world are still not as powerful as a human being looking you dead in the eye and saying, "Yes, do [random sexy thing] to me right now," or "No, I don't want to do [that suggestion]," or "You know, I'm not really comfortable with [suggestion], but I would really love to do [alternate suggestion]." Ask. Always ask. If the answer is no, move on. If the answer is yes… have fun!
Two. I think that I would have felt better about the experience at the time if I hadn't been "outcome-oriented." Essentially, I was interested in her and I wanted a specific outcome to occur, and felt disappointed when it didn't. It's a very human feeling to a) feel attraction to someone, and b) feel hurt when it doesn't pan out. However, if I hadn't been focused on a specific outcome, I think that I would have taken more positivity from the night. At it's most basic level, that evening presented an opportunity for me to go out with some new people and participate in a cultural exchange. Furthermore, the joy of conversing with Ro, who I found to be an intelligent and interesting woman, should have been enough.
And three. In retrospect, I think that the exchange that I had with Ro was a gift to me as well. This interaction, regardless of the outcome, was an important reminder that my queerness exists. And I cherish that, because sometimes I feel like an outsider in both straight and queer spaces. The straight mainstream assumes that heterosexuality is the norm and the default, contrasted with queer communities, in which there can be pressure to be "queer enough." But the beauty of queerness is that it has no singular definition, and manifests itself differently for every person. My queerness is unique to me. It is also real, legitimate, and a part of what makes me a whole person.
So here's to my getting rejected in Guatemala. Hopefully the next time I ask a cute girl if I can kiss her, she enthusiastically wants to kiss me back.