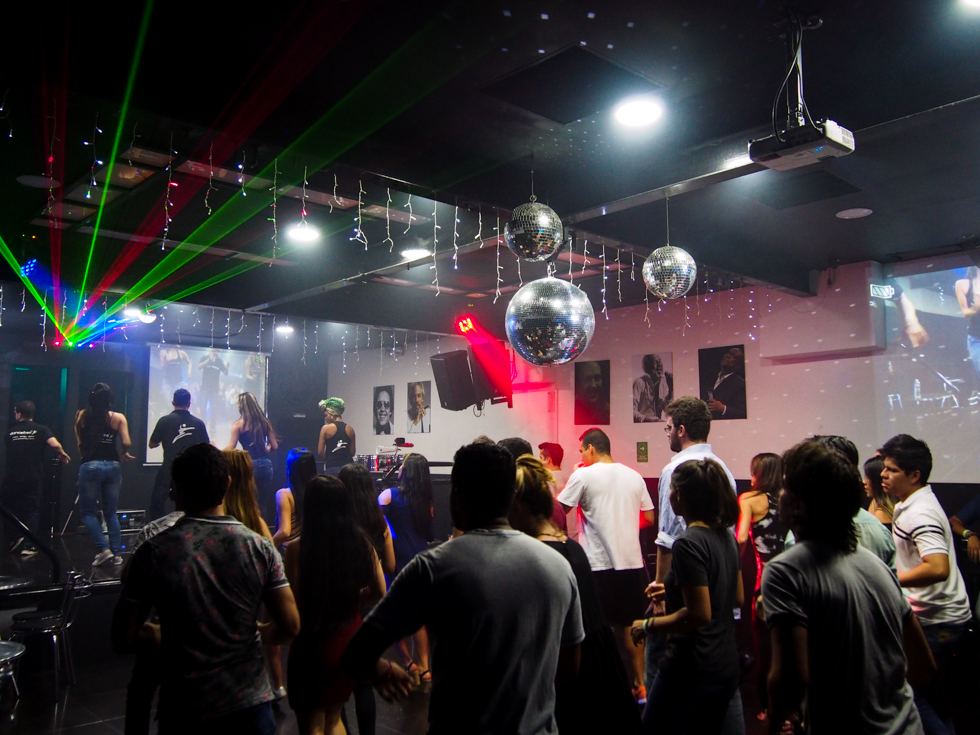 Actually, the social dancer's guide to salsa, bachata, and kizomba in Medellin. Who knew there were so many kizomberos around Medellin!?
I loved Medellin for social dancing. It had exactly what I was looking for, which was exactly what I did not find in either Bogotá or Cartagena. For more information about what to expect from social salsa dancing in Colombia in general, see this post!
I found Medellin to have an active dance scene, with lots of great options for dance any night of the week. It had a high level of dancers and a generally friendly dance community. My first night in Medellin I rolled into DanceFree, sola as usual, and immediately made friends with a local dancer who recommended to me the rest of the places on this list, and then some. During my two weeks in Medellin I tried a bunch of places and generally really enjoyed dancing in the city. International dancers who are accustomed to certain technical aspects of Latin dancing (timing, turn patterns, etc.) will find what they're looking for in Medellin.
While dancing through Medellin, I found a mix of styles. For salsa, there were plenty of dancers who were technically trained in On 1, Cuban, and Caleña style salsa. I generally didn't encounter On 2 dancers in Medellin. Many folks danced multiple styles of salsa. The social dance scene in Medellin also has a lot of bachata and kizomba. The bachata scene consists of almost entirely urban/sensual bachata music and dancing. I occasionally heard traditional bachata songs in socials in Medellin, but found that most of the bachateros danced to the traditional songs using sensual moves.
So, I now present my guide to social salsa and bachata in Medellin, Colombia. As always, dance venues do change, so check your sources and confirm beforehand. Happy dancing!
Where to dance salsa and bachata in Medellin
DanceFree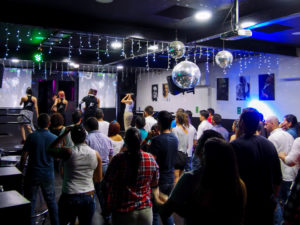 DanceFree is probably the most well-known social in Medellin. It is conveniently located in the Poblado neighborhood, where the majority of tourists in Medellin reside. I liked DanceFree and went multiple times during my few weeks in Medellin. I only attended on Saturday nights, but they have a Thursday night social as well, and they also have classes throughout the week. DanceFree has a large dance floor that is fairly slick, and dancers can also utilize the stage for dancing during socials.
The Saturday social is complete with a free class, which seems to be a rotation of salsa, bachata, or kizomba. The major highlight of the class is that the staff videotapes the instructors and projects the video on multiple walls throughout the room. Even if you have a spot in the back, you can still "see" the instructors throughout the class! Very useful, especially for learning footwork.
DanceFree has no cover charge before 11:00 p.m. The music is a mix of mostly salsa, bachata, and kizomba, though they did also play a variety of other music at points throughout the night, such as merengue, reggaetón, porro, and salsa choque. The crowd is a good mix of experienced social dancers and non-dancers. I found that arriving earlier was better, becuase after around 1:00 a.m. it had more of a night club vibe. All in all, a decent social for your salsa and bachata fix!
SkyBar
SkyBar was my favorite social in Medellin! This is a free Thursday night social, also located in the Poblado neighborhood, right next to Parque Lleras. There is a class offered at 9:00 p.m., which seems to be a rotation of salsa, bachata, zouk, and more. After the class there is social dancing, mostly a rotation of salsa and bachata, with small amounts of kizomba, merengue, reggaetón, and porro. I found SkyBar to have more On 1 dancers than any other social I attended in Medellin, and I found the level of the dancers here to be quite high. The dance floor is a decent size and it's fairly slick. Definitely recommended!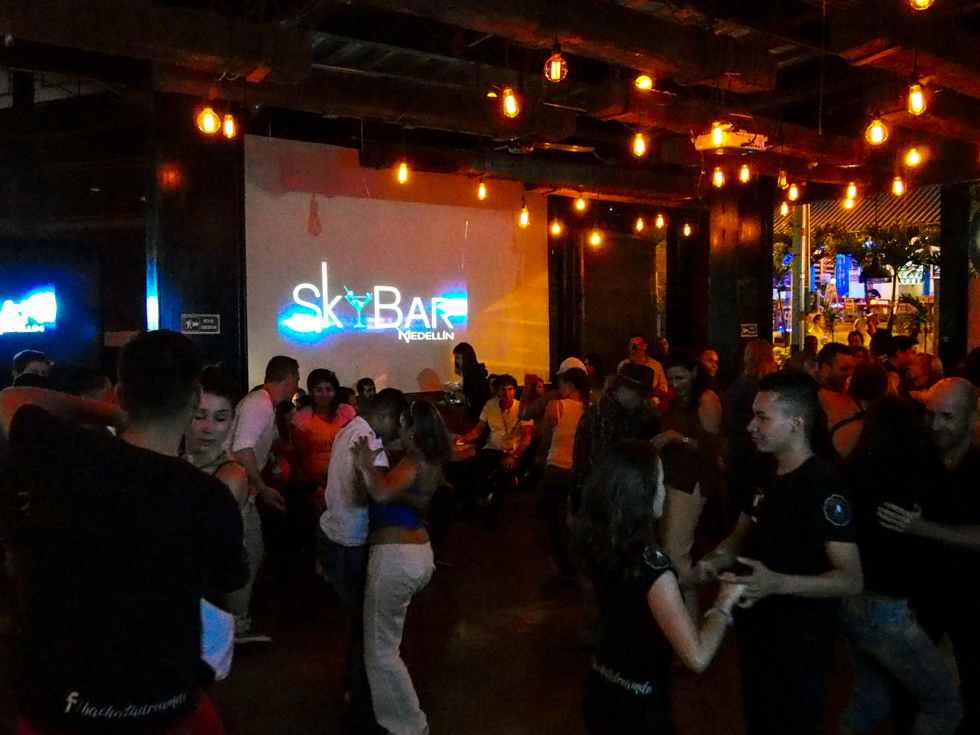 Son Havana
Son Havana is a Cuban salsa social located in the Laureles-Estadio neighborhood of Medellin. They offer salsa dancing multiple nights per week, though I specifically went to their Wednesday night social. On Wednesdays and Thursdays they offer a free salsa class at 7:30 p.m., followed by social dancing. The dance floor is fairly small, though there is a second, smaller dance floor in the back of the bar, and you can also get creative with dancing in the aisles. The social is pure Cuban salsa, so if you love dancing Cuban this is the place for you!
Son de Timba
Son de Timba is a dance studio in Medellin's Envigado neighborhood. On Monday evenings they have a free "practica" social from 5:00 p.m. to 9:00 p.m. Music at the practica is a mix of Cuban salsa, bachata, and kizomba. Futhermore, the salsa alternates between partner dancing and ruedas of multiple levels, so this is a great opportunity to try dancing rueda de casino if you've never tried it. Son de Timba has a huge dance floor, so there is plenty of space during this social. I went twice and found people to be very friendly, and the dancing to be high level. Definitely recommended, but arrive early because the social ends promptly at 9:00!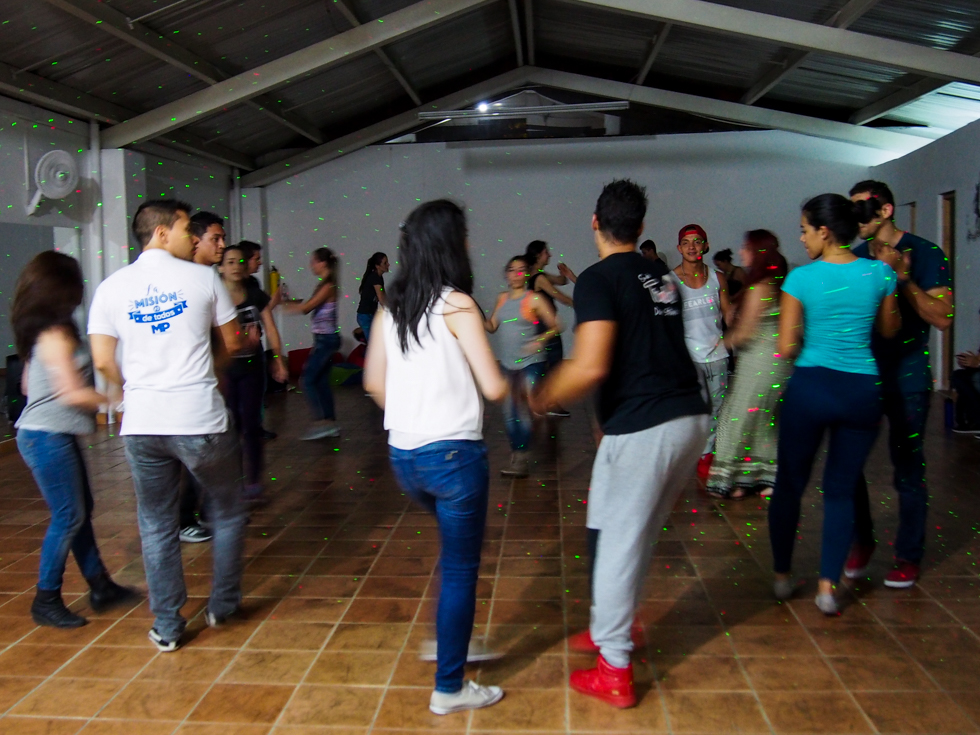 Eslabon Prendido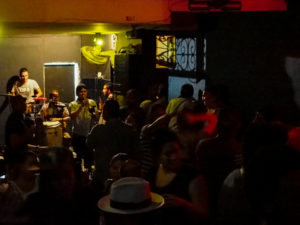 I didn't love Eslabon Prendido for dancing, but I thought it had a fun atmosphere nonetheless. Eslabon Prendido is a small bar located in the Centro of Medellin. I was advised to take a taxi or Uber to and from the venue (especially from the venue late at night) for safety. I went on a Tuesday night, though they have music and dancing multiple nights per week. There was a 10,000 peso cover to enter (approximately 3 USD). Every Tuesday, Eslabon Prendido has live salsa, and the social was almost pure salsa with a little bit of cha cha cha. In between live sets there was a DJ, who also played entirely salsa.
Dancing at Eslabon Prendido was complicated for two reasons. First reason, the dance floor is very small. The venue is long but very skinny, and with tables and chairs running along the two sides of the venue, there is only a few feet of space in between for dancing. However, Eslabon Prendido is pretty popular, and there are a lot of dancers. If you go, expect that there will be so many people that you're bumping up against other couples on all sides, all the time. This is not comfortable for many people, and for me personally I prefer to dance with more space. Second reason, if you're looking for linear salsa, this is the wrong venue. I felt like the majority of the dancers were dancing Cali-style salsa, or were dancing a simpler cumbia step. For your Cali-salsa fix it's great, but for dancers accustomed to linear salsa it's not a great venue. However, I did find folks there to be very friendly, and I got asked to dance a lot. And live salsa is always a treat!
Aaaaand there you have it! My guide for where to dance salsa and bachata in Medellin. If you liked this guide, feel free to give my guide to salsa dancing in Mexico a glance as well! Have you danced salsa and bachata in Medellin? Any places that I missed? What was your experience social dancing in Colombia? Let me know in the comments below!